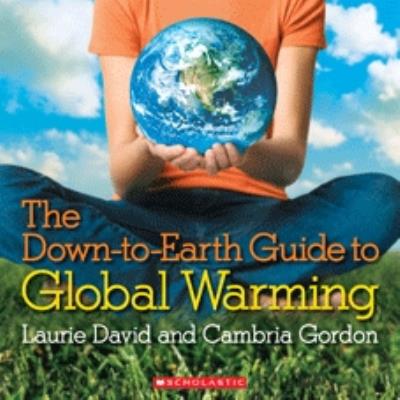 The down-to-earth guide to global warming
Laurie David and Cambria Gordon
9780439024945 (pbk. : recycled paper)
New York : Orchard Books, 2007.
xiii, 112 p. : ill. (chiefly col.), col. maps ; 23 cm.
It's getting hot in here: So what exactly is global warming? -- Greenhouse gas is not caused by an orchid grower who ate too many beans -- Were fossil fuels once dinosaurs? -- You say you want a revolution? CO2: Big Kahuna -- CO2 and temperature: Like peanut butter and jelly -- I'm melting! -- Bald...
It's getting hot in here: So what exactly is global warming? -- Greenhouse gas is not caused by an orchid grower who ate too many beans -- Were fossil fuels once dinosaurs? -- You say you want a revolution? CO2: Big Kahuna -- CO2 and temperature: Like peanut butter and jelly -- I'm melting! -- Bald and the beautiful -- Oceans are carbon sponges -- What is your carbon footprint? -- Says who? -- Weird, wacky weather: Hurricanes flex their muscles -- Flooded! -- Thirsty planet -- Heat waves: X-games of summer -- Beach bummer -- Walk in the park? -- Backyard BBQ -- Extinction stinks: Connect the dots -- Walrus, penguins, and polar bears, oh, my! -- Don't put bleach in the colors, um, corals! -- Kiss this toad good-bye -- Up, up, and away -- What you can do to stop global warming: Clean up your room! -- How many concerned kids does it take to screw in a light bulb? -- Gulp! -- Paper or plastic? Neither! -- Carbon (re)cycle -- Reading, writing, and saving energy -- Become famous (all you need is energy) -- Hybrid (hi-bred) -- Alternatives rock -- We've got the power -- What do you want to be when you grow up?: Sustainable career -- What else you can do -- Words to know -- Suggestions for further reading -- Cool web sites to check out -- Source notes -- Selected bibliography -- Photo credits -- Index -- About the authors
Describes why global warming happens, how it affects the planet, and measure that can be taken to stop it
Includes bibliographical references (p. 106-107) and index
The down-to-earth guide to global warming
Laurie David and Cambria Gordon
The down-to-earth guide to global warming
Laurie David and Cambria Gordon