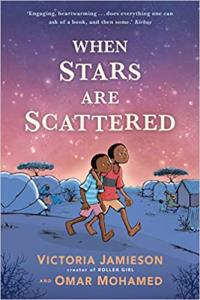 When stars are scattered
Victoria Jamieson, Omar Mohamed ; illustrated by Iman Geddy, Victoria Jamieson
London : Faber & Faber, 2020.
264 p : chiefly illustrations.
A heart-wrenching true story about life in a Kenyan refugee camp that will restore your faith in real-life happy endings. Omar and his brother Hassan, two Somali boys, have spent a long time in the Dadaab refugee camp. Separated from their mother, they are looked after by a friendly stranger. Life...
A heart-wrenching true story about life in a Kenyan refugee camp that will restore your faith in real-life happy endings. Omar and his brother Hassan, two Somali boys, have spent a long time in the Dadaab refugee camp. Separated from their mother, they are looked after by a friendly stranger. Life in the camp isn't always easy. The hunger is constant . . . but there's football to look forward to, and now there's a chance Omar will get to go to school . . . With a heart-wrenching fairytale ending, this incredible true story is brought to life by Victoria's stunning illustrations. This book perfectly depicts life in a refugee camp for 8-12 year olds. 'Does everything one can ask of a book, and then some.' Kirkus 'Fantastic graphic novel.' The New York Times Book Review 'Sensitive and poignant.' School Library Journal 'Not to be missed.' Booklist
When stars are scattered
Victoria Jamieson, Omar Mohamed ; illustrated by Iman Geddy, Victoria Jamieson
When stars are scattered
Victoria Jamieson, Omar Mohamed ; illustrated by Iman Geddy, Victoria Jamieson