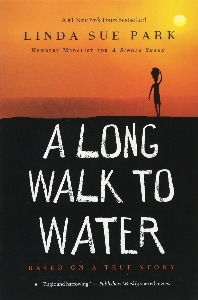 A long walk to water : based on a true story
a novel by Linda Sue Park
Boston : Clarion Books, 2010.
121 p. : col. map ; 22 cm.
When the Sudanese civil war reaches his village in 1985, eleven-year-old Salva becomes separated from his family and must walk with other Dinka tribe members through southern Sudan, Ethiopia, and Kenya in search of safe haven. Based on the life of Salva Dut, who, after emigrating to America in 1996,...
When the Sudanese civil war reaches his village in 1985, eleven-year-old Salva becomes separated from his family and must walk with other Dinka tribe members through southern Sudan, Ethiopia, and Kenya in search of safe haven. Based on the life of Salva Dut, who, after emigrating to America in 1996, began a project to dig water wells in Sudan
A long walk to water : based on a true story
a novel by Linda Sue Park
A long walk to water : based on a true story
a novel by Linda Sue Park